Overview¶
The fresh air heating system combines the two engine heat exchangers and a heater booster. The fresh air is preheated in the engine heat exchangers and then passes on to the heater booster.
This booster, which is thermostatically controlled, increases the temperature of the fresh air to the desired level. The heat produced by the heater booster varies according to the temperature in the engine heat exchangers. The heater booster shuts off automatically when the engine supplies sufficient heat by itself.
When the engine is not running, the heater booster alone heats the car.
The heater booster is supplied with gasoline from the vehicle fuel tank. The fuel consumption varies from 0.35 to 1 pint per hour according to heat output.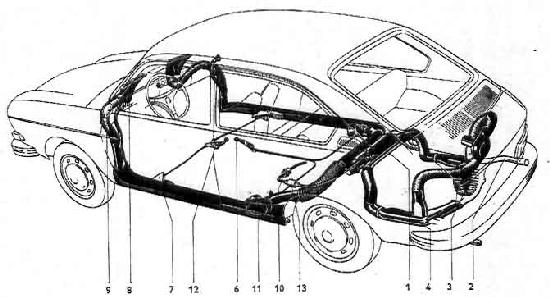 Heater booster

Exhaust pipe

Heater air blower

Engine Heat Exchanger

n/a

Side member warm air duct

Footwell outlets

Instrument panel vents

Door window defrost vents

Heater flap lever

Temperature control switch

Footwell heat regulating lever

Fuel pump

Fuel filter

Temperature regulator/time switch