Ribbed heat exchanger and other changes (CA only)
In order to insure that the heater output meets the requirements of extreme climactic zones the heater system has been changed.
The engine heat exchangers are finned

The hot air fan has a two stage switch:
First stage (current draw 70 Watt)

Second stage (current draw 160 Watt)
The two stage switch for the fan operates automatically. The first stage is limited to stationary heating operation. The second stage is automatically switched on when the engine is started (voltage at regulator swicth D+). This ensures that the current draw is limited during stationary operation.
Service installation into previously produced vehicles is not intended.
Wiring diagram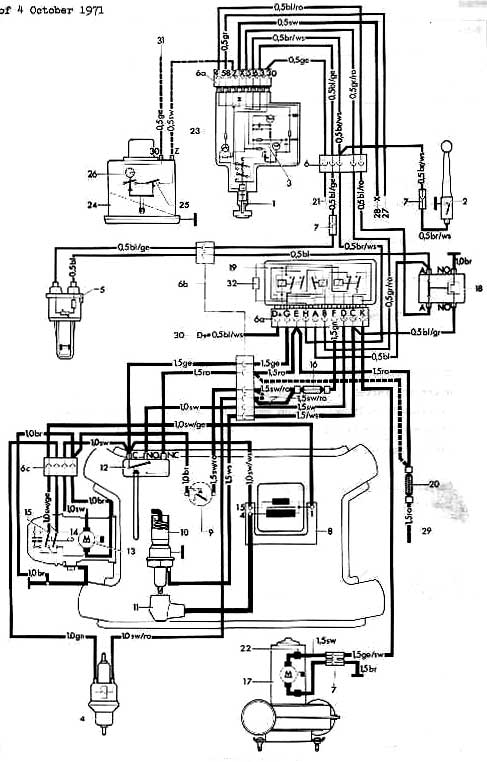 Cable colors
ro: red

bl: blue

sw: black

br: brown

ge: yellow

ws: white

gn: green
Legend
Warning lamp

Main switch

Electronic switch

Fuel pump

Temperature sensor

Plug housing
6a. Multi point plug (Temperature switch, relay)

6b. Plug housing (VW 411 wagon)

6c. Plug housing of the combustion air blower cable harness
Cable connector

Ignition coil

Overheating switch

Glow/Spark plug

Angled plug with ignition cable

Thermo switch

Combustion air fan motor

Contact breaker for pump

Contact breaker for ignition

Overheating fuse 8 amp.

Hot air motor

Safety switch

Double relay

Fuse 16 amp.

To terminal 30 of safety switch

Suppression choke

Temperature regulating switch

Time switch

Operational readiness switch

Clock contact

To parking light

To ignition/starter lock

To starter (terminal 30)

To regulator switch

To lighting switch (terminal 30)

Series resistance for hot air fan
The cable which is shown dotted - from the 16 amp. fuse (20) to the plug housing (6b) - belongs to the VW 411 wagon.