Gama¶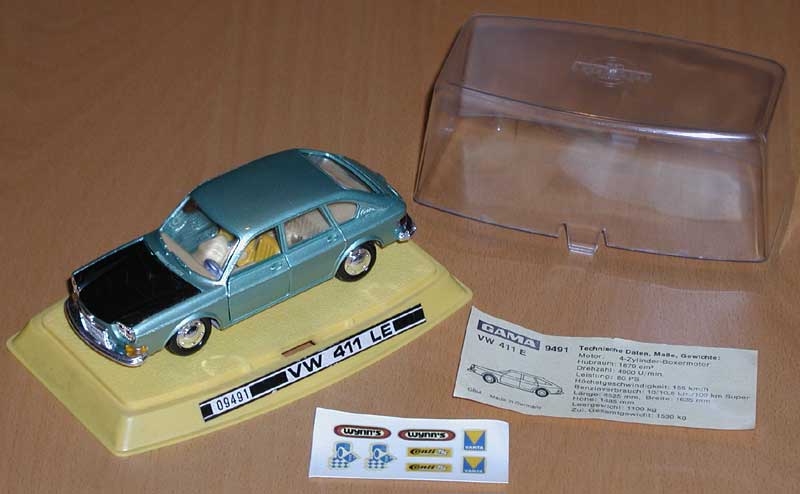 Unlike the other Gama model listed this one was made in the early seventies while the 411 was still being produced. It comes in a case that allows the owner to fix the model to the bottom with a screw that is turned using a small coin that is included, not shown in the picture. A small sheet has technical data and another sheet contains some stickers to "dress up" the model. This early Gama is a very desirable and well-made item.
Interesting detail: The technical data sheet says VW 411 E while both the box and the model itself show VW 411 LE.
| | |
| --- | --- |
| Model | 411 |
| Body style | 4-door Sedan |
| Scale | 1:43 (length 110 mm) |
| Producer | Gama (Germany) |
| Material | Metal |
| Exterior color | Light Green Metallic |
| Interior color | Beige |
| Owner | Jens Vagelpohl, Oldenburg, Germany |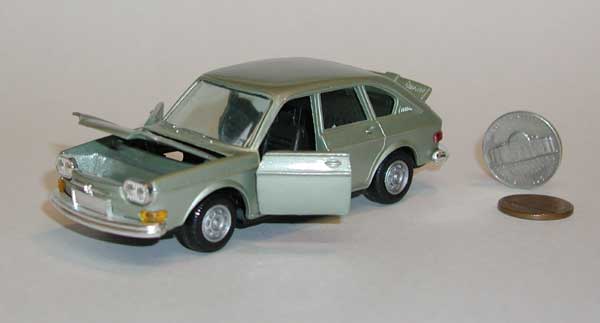 This metal diecast model by Gama is a medium (1:41) scale 411 4-door sedan. The front doors and both hatches open up.
The fit and finish on this model is rather poor. Details could be better considering the scale.
| | |
| --- | --- |
| Model | 411 |
| Body style | 4-door Sedan |
| Scale | 1:41 (length 141 mm) |
| Producer | Gama |
| Material | Metal |
| Exterior color | Light Green Metallic |
| Interior color | Dark Grey |
| Owner | Jens Vagelpohl, Oldenburg, Germany |