Fuel Pump¶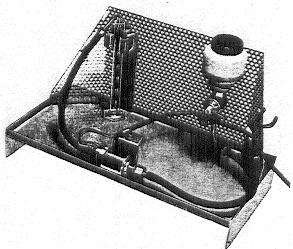 Disconnect cables from fuel pump.

Detach fuel hoses on suction and pressure lines and plug them.

Remove fuel pump, secure to measuring device (VW 804, seen on picture) and connect. The cut-off tap should be in position "Off".

Lengthen fuel pump cables from vehicle with measuring device cable and connect to pump.

Turn heater on.

Move cut-off tap to "Operation" and allow 5 cc of fuel to flow through. Then start stop watch and measure delivery quantity. At a combustion air blower speed af 6000 rpm, the pump should deliver 24-25 cc per minute.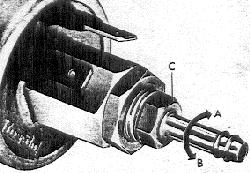 Note
If necessary, the fuel consumption can be adjusted at the fuel check valve.
Loosen securing nut.

Increase consumption: Turn valve "C" counterclockwise (arrow "B").

Decrease consumption: Turn valve "C" clockwise (arrow "A").

Tighten securing nut.
Technical Data¶
Speed of (a new) combustion air motor at 12 Volts:
6600 rpm (+500 rpm or -200 rpm)
If, at a testing voltage of 12 Volts, the speed varies considerably from the given data, replace the motor. The measurement should be carried out after a warm-up time of 5 minutes.
Fuel pump adjustment¶
The chart below contains the new fuel pump adjustment values. It is possible to adjust the pump at any speed of the combustion air motor within the tolerance range. The delivery quantity figures are related to a measuring time of 2 minutes. To assess the delivery quantity accurately, we recommend that the measurement be repeated.
| Speed (rpm) | Quantity (ccm/minute) |
| --- | --- |
| 6400 | 23.0 - 24.3 |
| 6500 | 23.4 - 24.6 |
| 6600 | 23.7 - 25.0 |
| 6700 | 24.2 - 25.4 |
| 6800 | 24.6 - 25.8 |
| 6900 | 24.9 - 26.2 |
| 7000 | 25.4 - 26.6 |
| 7100 | 25.7 - 27.0 |